Beautiful Houses
Start to build with us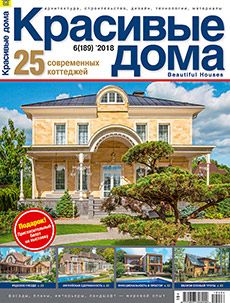 Today a house is not just a uni on of several rooms with a common roof and cold-heat-insulating walls. The house is a living space where we spend a lot of time and the best place to realize our boldest dreams. The best way to demonstrate your creativity and organize leisure time is to realize them in your own home. The first very important step is to think over your desires and carefully plan all the outstanding activities, select the best finishing materials.
Beautiful Houses magazine is a very good assistant in achieving excellent results - all-Russian magazine, designed for a wide range of readers, practitioners in the field of construction, repair, design and architecture, seeking to make the house unique, with unusual shape. Therefore, the magazine also focuses on the cooperation between designers and developers, manufacturers and consumers of construction products. It tells mainly about already realized projects and design solutions fr om around the world, colorfully illustrated, provided with drawings and floor plans. Planning and decoration, repair and reviews of building materials, furniture and accessories, machinery and equipment – all information about this you can find at pages of Beautiful houses magazine.
Beautiful Houses magazine has traditionally been the General Media sponsor of the International architectural and building and interior exhibition Beautiful House. Russian Architecture Salon, held in autumn in Moscow, Crocus Expo and open international architectural competition Beautiful Home. The organizer of the exhibition is World Expo Group Company.
The official website of the magazine Beautiful Houses is the unique platform where you can read and look through online selected articles published in the printed version of the magazine. We also offer our readers a full digital versions of magazines (since 2009) for reading online. For example, you can flip through the magazine «Beautiful Houses».
Beautiful Houses magazine is registered by the RF Ministry for Press, Broadcasting and Mass Communications. Registration certificate ПИ № 77-9175 dated May 31, 2001
The magazine has been published since the year 1997.
Frequency: 10 times a year
Circulation: 50 000 copies
Format: 220 x 290 mm
Printing: full color
Printing house: OOO «Pervy Polygraphichesky Kombinat»
Distribution: Russia, CIS and far abroad
Tel: +7 495 730 55 92
E-mail: mnv@houses.ru
Nadia Morozova